Happy New Year!
Our good news to start 2019 is the arrival of Rev. Dona Spencer.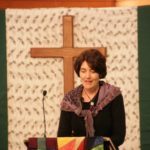 We are delighted to announce the induction into the Kenmore Uniting Church, of the Rev. Dona Spencer on Sunday, 10th February, at 2 pm. The service will be followed by refreshments and community members are most welcome to come and meet Dona.
RSVP: Wendy at whosk2@gmail.com
by 6th February, 2019.
2019 is already on the move
Many groups and activities at Kenmore Uniting Church are underway again this month. Communify gentle exercises classes On the Move start up again at 10am Wednesday 9th January followed by morning tea. Friday 11th sees the Mahjong Club back in action at 10 am and beginners are always welcome to learn from friendly teachers. REFRESHED, the little recycling shop on the verandah, will re-open every weekday from Tuesday, 29th from 9 – 12.30. They will have a range of new stock ready for the New Year. Enquiries for any activities can be made through the Church Office (3378 4505) on Thursdays and Fridays.
COOL & CLASSIC CONCERT SEASON FOR 2019.
This is all organised and will be announced soon, so watch this space.